General Information for Annual Dream Fields Spanish Mackerel Tournament

This tournament was previously named the Lancaster Little League Spanish Mackerel Tournament. The tournament is used by the Youth Club of Lancaster Virginia as a fundraiser for their Little League program. Boats depart from any location and weigh in at the Chesapeake Boat Basin in Kilmarnock, VA. The rules, which have evolved over the years, give nearly every boat a good chance of winning this tournament.
This was the first public tournament in the country to create a Special Angler Division and stock it with a cash purse. During its first implementation in 2013, the division paid out $600 to Special Anglers. Our first ever Special Angler National Championship was competed at this tournament in 2014.
Eligible entrants to the tournament may compete for 1st, 2nd, 3rd, 4th, and 5th place prizes. First place typically pays out
$200 cash award
for eligible special anglers. The tournament also sponsors Junior and Lady angler division awards in addition to the primary $2,500 overall 1st place boat prize based on a four fish aggregate. Tri-Star Super Market sponsors a $25,000 prize if the Virginia state record is broken during the tournament. You can expect about 50 to 65 boats to participate in this tournament every year. The tournament has a Calcutta purse that typically reaches about $2,500 which is awarded based on the largest single fish.
Captains, please use the following link to download a registration form to register your boat/vessel from the
YCLC Website
. Please let us know
here
that you have registered and plan to fish this tournament with your special angler.
Travis Smith has been serving as the Special Angler Ambassador for this tournament. He and his family (parents Joe and Diana, brother Sander) will be there and ready to support you in your endeavors. You can contact them at this
address
.
Past Tournament Results and Stories

2014 Lancaster County Little League Spanish Mackerel Tournament, August 23rd, Kilmarnock, VA
Official Results Here
The Special Angler Fleet racked up five of the nine divisional awards in this year's tournament. The LA-II team sacrificed a minimum 3rd place boat win to put Sarah Capp on top of the Lady Angler division ($200), leaving Tasha Adkins-Blanch (LA-II), Joe Gittinger, Michael Hoyt, Travis Smith, and Morgan Howard (Team Latitudes) scrapping for the Special Angler division leader board. The young men were together aboard the Jimmick Jr. III (JJR-III) captained by Jim Diebler in a hard fought out battle with 2013 National Team champions aboard the Liquid Assets II led by Capt. Billy Pipkin and Chuck Adkins-Blanch. Although the JJR-III team was out fished by the LA-II team by a 3-1 margin, they managed to accumulate more national ranking points (1,500 to LA-II's 1,000). Joe Gittinger and Michael Hoyt split the $200 cash purse due to a tiebreaker that could not be broken. As a result of the two anglers each weighing in 1.75 lb Spanish mackerel from the same boat, the tie could not be broken based on weigh in time. As a result of this strange twist, Joe Gittinger remains undefeated at this tournament in the Special Angler Division.
Travis Smith also caught a 1.75 lb mackerel, but could not share the purse on account of his ambassador role in this tournament, but he did receive the same number of national ranking points as Gittinger and Hoyt (500 a piece). Tasha Adkins-Blanch was 0.05 ounces behind the young men, which was enough to secure 2nd place, a bump up from her 2013 4th place finish. 2013 National Champion Morgan Howard weighed in a 1.60 lb Spanish securing 3rd place and earning 200 points in her quest to maintain her national title.
Aboard the JJR-III, we also had youth angler Nathanael Crouse place 3rd in the hotly contested Junior Angler division.
---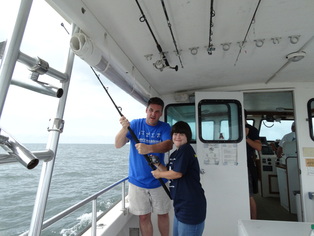 2014 Results Summary for Special Anglers from this tournament:
Sarah Capp: 7,000 National Ranking Points, 1st Place Lady Angler Division, $200
Joe Gittinger: 500 National Ranking Points, Tied 1st Place Special Angler Division, $100
Michael Hoyt: 500 National Ranking Points, Tied 1st Place Special Angler Division, $100
Travis Smith: 500 National Ranking Points
Tasha Adkins-Blanch: 300 National Ranking Points,2nd Place Special Angler Division
Morgan Howard: 200 National Ranking Points, 3rd Place Special Angler Division
---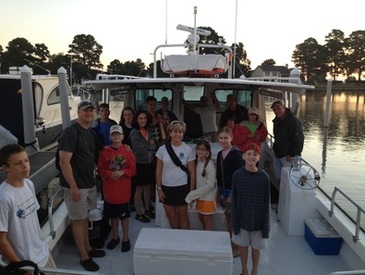 2013 Lancaster County Little League Spanish Mackerel Tournament, August 24th, Kilmarnock, VA
This was our inaugural event. Seven Special Anglers competed with their families for over $35,000 in cash prizes. Over $2,500 was raised in support of the Special Angler effort. In cooperation with the tournament,
$600
in cash awards were paid out to Special Angler tournament winners. These cash award are the first known cash payouts in any fishing tournament to individuals with intellectual disabilities. Our 4th place finisher, Sarah Adkins-Blanch, will go down in history as the first to receive a cash award ($100).
The Special Angler Foundation was able to donate over $200 in direct donations to the Little League in addition to over $200 for meal tickets and t-shirt sales. The foundation was also instrumental in the participation of four additional boat entries for an additional $700 to the Little League's fundraiser. With many angler families coming from outside of the Northern Neck, Special Angler Foundation has estimated over $8,000 positive economic impact by their participation in the tournament due to increased fishing tackle sales, fuel sale, lodging, marine services, groceries, dining, etc..
We had a total of eight eligible Special Anglers declared for the tournament aboard two different vessels, the Liquid Assets II and the Latitudes. Fish Dispatch, USA provided corporate sponsorship of the Liquid Assets II team captained by Billy Pipkin and mated by Billy Pipkin Jr.. Rob Howard captained the Latitudes with eligible Special Angler Morgan Howard (she was accompanied by her two sisters Caroline and Catherine along with friends Abby and Issy English and their dad Joe English. Fish Dispatch provided fishing intelligence data to all Special Angler boats prior to and during the tournament. Those left dockside were provided live viewing of catch data and boat tracks of the Special Angler Team via a Google Earth viewer.
Link to 2013 YCLC Spanish Mackerel Tournament Results
---
Questions and Answers for this Tournament
(we'll continue post answers here from your emailed questions)
What if only one Special Angler participant weighs in a fish during the tournament? That angler will get the entire cash purse guaranteed at $200.
Is my special angler also eligible for the youth and lady angler awards? Yes, but you cannot double dip. Choose judicially. We will announce the total number of special needs participants at the captain's meeting on Friday night before the tournament as well as here on our website. We'll do our best to keep the special needs participants aware of the leader board in each of these categories. During the 2014 tournament, Sarah Capp of Centreville and her crew chose to forgo the Special Angler Division with her fish, and instead submit against the Lady Angler Award. She won!!! ... and collected the $200 prize from that division, leaving the $200 for the rest of the Special Angler participants in the Special Angler division.
Will my boat be eligible for the other standard cash prizes? Of course. That is what the Special Angler awards program is all about. You are still competing in the general public tournament. The only catch here, similar to the youth and lady award categories, is that a fish submitted on behalf of a Special Angler cannot also be submitted as part of your four fish boat aggregate. You have to use separate fish.
Can we win more than one Special Angler award if I have more than one Special Angler on my boat? Yes, but they will each have to submit their own fish.
How is eligibility determined for this tournament? Eligibility will be based on the following:
* Angler is currently enrolled (or eligible) in a national special sports competition program for the intellectually
disabled (e.g. Special Olympics).
* Angler is receiving existing services (or eligible for services) via the public schools for intellectual disability
or a developmental delay.
* Angler is receiving existing services (or eligible for services) via the public schools for intellectual disability or
a developmental delay.

If none of the above, the angler (or parents/guardian of the angler) can provide doctor's name, telephone number, and address for verification of intellectual disability. You can let us know in advance via email of your eligibility or when you check in or at the captain's meeting on Friday night. A simple form will be provided at the captain's meeting.

Is the cash award taxable? Yes (sorry, one of those two things in life that are a certainty), but at the tax rate of the special angler recipient.
Can I share in the cash purse if my boat wins a cash prize? Yes, but only if you made a deal with your captain in advance. If you have a sponsor who has paid for your registration fee, they may not want to share in the purse. You need to negotiate all that before hand with your team. We would also suggest you participate in the "unofficial" Calcutta purse at $100 a boat. If five of you chip in at $20/piece, you could then split the Calcutta purse winnings in fifths (all cash).