Special Angler Foundation National Catch-and-Release Tournament
08/03/2015 Update: All the 2015 prize money is still on the table. Fish Dispatch has generously provided us a new live leaderboard that tracks the progress of all the anglers who submit their catches via the rules explained herein. In addition to our Facebook page, the pic links on the live leaderboard provide snaps of all the catches.
10/14/2014 Update:
The Virginia state record was broken on 10/6/2014 by
Junior Angler
Andrew Acosta (14 yrs) of Providence Forge, VA, with an elapsed time of
two hours and twenty six minutes
. Andrew has won our 2014 $75 prize for breaking the record and surpassed previous record holder Charles Dunfee III. Congratulations Andrew. Job well done! See our
In The News
page for links to press coverage of Andrew's achievement.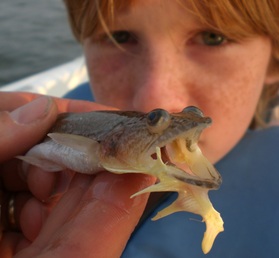 The tournament is open to all Special Anglers nationwide in both saltwater and freshwater environments. The Special Angler Foundation provides two prize money divisions to Virginia Jr. Anglers (15 and younger) that participate in the Virginia Marine Resources Commission (VMRC) Virginia Junior Angler Awards Program. Fish Dispatch, Virginia (along with the Northern Neck, Potomac, Cape Charles, Rudee Inlet, and West Point chapters) is sponsoring the $300 cash purse to be split $100 (1st), $75 (2nd), and $50 (3rd) for the first
Jr. Special Anglers
to complete the requirements of the Virginia Junior Angler Awards program in 2014. The Foundation will also award national ranking points for Junior and Non-Junior Special Anglers alike in our Special Angler Open Division. The Foundation will award
any Junior Angler
a $75 cash purse if they can beat the VA State Record set in 2014 by Andrew Acosta with an elapsed time of 2 hours and 26 minutes. Fish Dispatch - Rudee Inlet has offered to match that award with an additional $75 if the record is met by a
Junior Special Angler
.
The Virginia Marine Resources Commission encourages young anglers to become responsible anglers and good stewards of our marine resources. As a part of this effort and to encourage young anglers to appreciate the rewards of catch-and-release, anglers 15 years of age and younger can participate in the Virginia Junior Angler Awards Program. Young anglers catching and releasing 6 different species of saltwater fish during the year earn an award certificate, baseball hat and decal. The program is free, there are no minimum size limits for the fish, and virtually all species of saltwater fish qualify. All a young angler has to do is obtain a
Junior Angler Card
, complete the program requirements, and return the card to the office of the Virginia Saltwater Fishing Tournament. See the official VMRC
website
for additional details and certification requirements.
---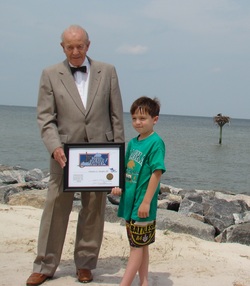 Please note: The 1st, 2nd, and 3rd place cash awards are only for Junior Special Anglers, but we will honor all Special Anglers with national ranking points. Additional rules apply below that explain eligibility for the cash awards.

The Special Angler Foundation will honor Special Anglers from all states in our Special Angler Open Division that participate in the six species format for national ranking points. We would like to see additional sponsors back the cash awards for your particular state. We honor both your saltwater and freshwater catches.

We recommend all states to follow the example of the VMRC for this incredible awards program. Participants of previous Junior Angler Awards have received signed certificates by the Governor of the Commonwealth of Virginia and wonderful coverage of their achievements in local newspaper press releases.

---
Specific Rules and FAQs
Only 15 and under Junior Special Anglers are eligible for the 1st, 2nd, and 3rd place cash purse.
Only 15 and under Junior anglers are eligible for the $75 purse set aside for breaking the VA State time record (16 hours by Charles Logan III, set in 2012). To be eligible for this award, you must provide time stamped pictures of each catch. This award applies only to VA saltwater species.

The Foundation will award only one $75 cash purse for a State record in the event the multiple Junior Anglers break the 16 hour time record in a given year. The first to break the record in 2014 and show evidence will receive the award.

If a Junior Special Angler breaks the record, and is the first to submit evidence, the Foundation will match the $75 award with an additional $75 award sponsored by Fish Dispatch - Rudee Inlet.
The 1st, 2nd, and 3rd place prizes will be awarded in the order that eligible anglers complete and show evidence of their six salt water species catches to the Special Angler Foundation. Remember, this is a catch and release tournament with rod and line per VMRC rules.

In addition to the certification by VMRC, we require that you provide time stamped pictures of each of your six species catches. We will contact VMRC tournament administrators as a final check of your certification.
We make some exceptions to the "release" rule for the Special Angler Open and the Adult Open Divisions (divisions not under VMRC rules). If you have caught a pest species (e.g., snakehead), that by law you have to kill in your particular state, you will still get credit for that species. We make other exceptions that include conditions like the Izaak Walton League event, where the facility hosts encourage you to keep your fish, else they will die come the summer heat. If the managers of the ecosystem are encouraging you to kill a particular species (e.g., cownose rays in the Chesapeake Bay due the damage they make to oyster beds), we will also waive the "release" qualification.
By submitting pictures via email to the Special Angler Foundation, you give us the right to publish your pictures here on our website to further promote the mission of the Foundation. You also give rights to the Foundation to submit your pictures and story of your catches with your Special Angler to local news outlets.
We request you conduct a formal, but simple ceremony for presenting the VMRC certificate to your Junior Special Angler. Please take pictures. We can provide ideas on how to do this and make this truly memorable for your angler. When possible, please let us know the details. If we can send a Special Angler ambassador, we'd like to be a part of this. We would really like to be present for the three cash awards.
We will award 100 national ranking points in the Special Angler Open Division to any Special Angler who participates in this tournament as evidence by time stamped picture provided to the Foundation. Additional points will be awarded based on the order of those who complete the six species catch and release format and the total number of participants at year's end. So, the more anglers you attract to this tournament, the better off you will do in the National Ranking Points system.
The Special Angler Open Division and Open Public Division accepts both freshwater and saltwater catch-and-release entries. Placement is determined by the first angler to achieve six catch-and-release species. We are considering a rule change for 2016 that would determine ranking by most species caught by the end of the Special Angler season, typically culminating at our National Championship.
We will also award national team ranking points based on catches made from specific boats.
We will honor anglers from all states that participate in this tournament for national rankings, but only Virginia Junior anglers are eligible for the cash purse. We welcome other state institutions to adopt a similar program as the VMRC. We welcome other sponsors to create cash purse awards for their individual states.
We thank Fish Dispatch -Virginia and the local chapters for their sponsorship of these original cash awards for 2014. We are working with other state chapters of Fish Dispatch - USA to likewise sponsor cash awards for their respective states. Feel free to reach out to those state owners for sponsorship. In addition to this sponsorship in Virginia, we are working with Fish Dispatch to provide their smartphone app free of charge to Special Angler participants as a method to qualify their catches.
Will the Foundation consider freshwater fish species in these awards? We will consider freshwater species only for Special Angler national ranking points. The elapsed record award only applies to breaking the Virginia State Record for saltwater species.
Why is the Foundation adopting the VMRC Junior Angler Awards Program? We are doing this because a tournament like this fits within the sweet spot of our mission. The VMRC is a public tournament available to all Junior anglers. We made some allowances for non-junior Special Anglers to also be involved by adding national ranking points. We are working with VMRC to make all Special Anglers of any age eligible for the VMRC program. We also made this tournament more public by offering a cash purse to all Junior Anglers for the elapsed time award. We also believe that this will further motivate families and relatives of all Junior Anglers to get out on the water and participate together in this challenge.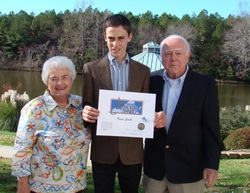 A Note from our founder on the adoption of the VMRC Junior Angler Award Program for Special Anglers

A strong impetus for adopting this award format is based on my own personal experience with my two boys and their neighborhood friends throughout their junior angler years. I've heard many folks say how easy it is to catch and release the six salt water species of fish in a given year, but very few turn around and do it. My older son, Sander, who is a co-founder of Special Angler, to my dismay, did not achieve this award during his years of eligibility, while Travis, our special needs son on the autism spectrum, actually did. He pulled off his accomplishment during his last year of eligibility. Of the neighborhood junior anglers I've attempted to help in our Little Bay community, only those who truly showed persistence in the effort over the course of the summer eventually achieved it. It seemed to be without fail, that those who continued to nag me about going out in the boat we're the ones who would eventually complete the requirements (much like the persistent widow of Luke 18) . None of these award recipients were disappointed with the recognition they received by VMRC and the Commonwealth of Virginia. In addition, the local newspapers have readily published their individual stories of their catches, and then later the story of the presentation of the award certificate by a distinguished member of the community.

Whether or not you have a Special Angler, my hope and prayer is that you get out on the water with your son, daughter, niece, nephew, grandchild, or just the neighborhood kid and help them with this quest. In many cases, it is a fulfilling team effort that will provide you life long memories.


---